Billie Eilish: The World's A Little Blurry tells the true coming-of-age story of the singer-songwriter and her rise to global superstardom. From award-winning filmmaker R.J. Cutler, the documentary offers a deeply intimate look at this extraordinary teenager's journey, at just seventeen years old, navigating life on the road, on stage, and at home with her family, while writing, recording, and releasing her debut album "When We All Fall Asleep, Where Do We Go?".
A large number of documentaries that focus on a popular singer or artist tend to show them performing on stage, interacting with fans, and having a great time while doing so. And as fun as that is to watch (especially for the hardcore fans), a lot of these movies don't really show you who they are as a person.
We have gotten quite a few of them in the past few years, such as Shawn Mendes: In Wonder. But my personal favorite of the recent releases has to be Lana Wilson's Taylor Swift-centered documentary Miss Americana which served as a deeply touching and inspiring film about Swift's career and how she learned to love herself for who she is.
As great as that film is, I have a new favorite music documentary – R.J. Cutler's Billie Eilish: The World's a Little Blurry. If you are a die-hard Eilish fan like me, you are going to be absolutely enamored with this poetic and grand documentary that feels genuinely Oscar-worthy. And even if you're not too familiar with her or her music, the film still serves as a touching and insightful look into her life. If you don't know who she is before watching it, I can assure you that by the time the film comes to a close, you'll feel like a close friend of hers.
One thing I love about Eilish, and one thing that we learn early on in the movie is that she never refers to her fans as her fans – she says that they are so much more than just "fans"; they are a part of who she is. She wouldn't be alive today if it wasn't for their support and love that they have shown her throughout the years.
I've been a huge fan of her and her work since about early 2018 and even I learned a whole bunch of stuff about her from this documentary. It really does an excellent job at opening up about who she is as a person. A lot of docs sadly don't have family footage at their disposal, but The World's a Little Blurry thankfully does.
And oftentimes these scenes ended up being my favorite. It was so entertaining and insightful to watch Eilish and her partner in-music brother Finneas O'Connell brainstorm ideas for what their new song should sound like. None of it is sugarcoated, either.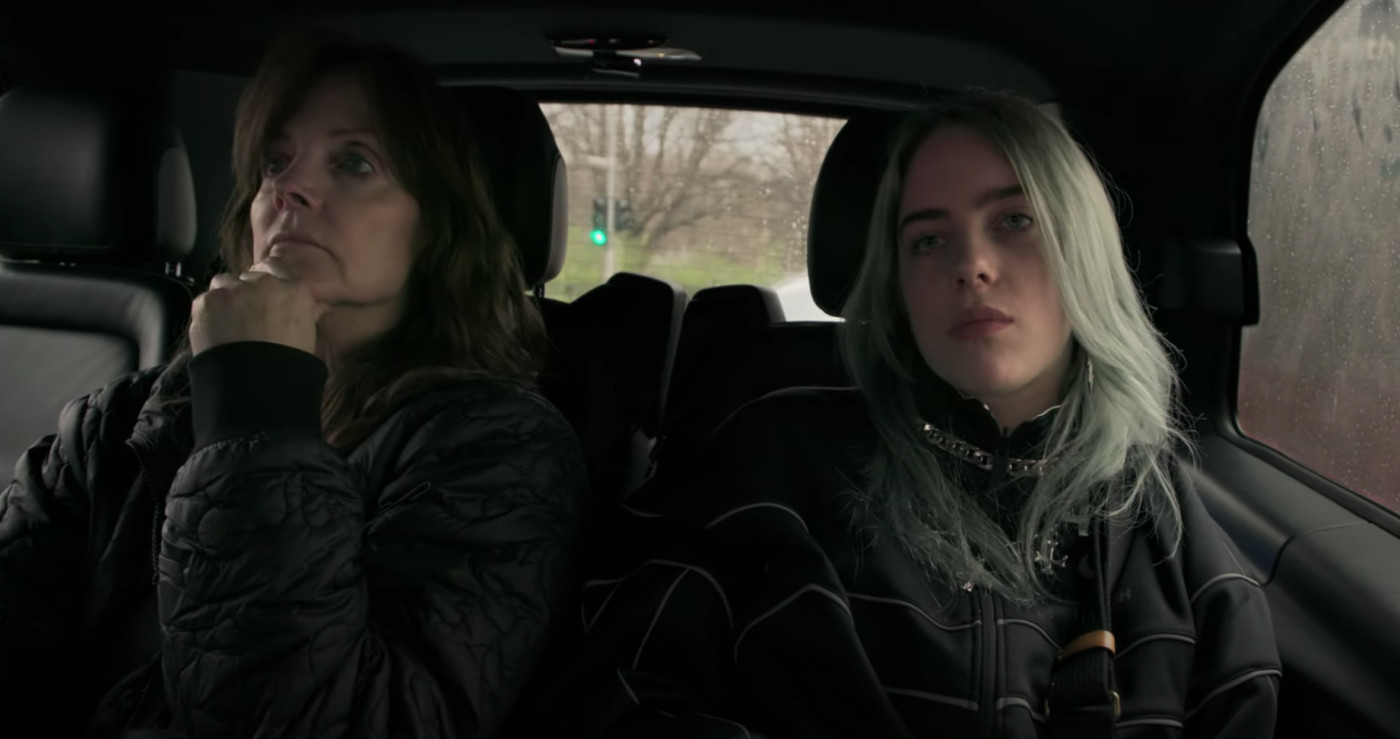 Eilish flat out says that she hates songwriting because she feels like everything she writes simply sucks. She isn't afraid about being honest as to how she feels. This film shows you that Eilish is somebody who wants more than anything to make music that her fanbase will adore, but she worries that it simply won't be good enough.
Watching these moments was incredibly inspiring. These same songs that she wasn't sure about ended up winning Grammy awards not too long later and we see how much of an impact Eilish has made in the massive music industry in this day and age, and she has only been making music for a few years now. The future is certainly bright for the singer.
There are also plenty of scenes throughout in which we see her interacting with her parents which was a nice surprise. Both of them are highly supportive of her music and always do their best to provide feedback and advice on how to improve and how to convey a certain message through her lyrics.
Plus, as you probably expected, the film does have quite a few scenes in which we see Eilish performing some of her biggest hits on stage in front of a massive crowd. It's so comforting to watch her and Finneas trying their absolute best to finish up creating songs like "Bad Guy" and "ilomilo", and then the next scene, we see them finally performing the same songs in front of a crowd despite their struggles in the creative process.
R.J. Cutler's direction is utterly masterful as well. He does an absolutely mesmerizing job here in virtually every aspect. Its running time may be daunting for some, especially those that aren't familiar with the singer, but fear not – every second spent is a second spent well. This documentary feels so grand and larger-than-life. By the time the closing credits appeared on screen, I felt as though I had just watched a major blockbuster event. And more than that, I felt like I just had an inside look at Eilish's life, and I finished it with more knowledge about her than I had going in. For the die-hard Eilish fans or just for the average viewer, this is an absolute must-see.
Overall Grade: A+
MPAA Rating: R
Cast: Billie Eilish, Finneas O'Connell, Maggie Baird, Patrick O'Connell
Directed by: R.J. Cutler
Distributed by: Apple TV+, Neon
Release Date: February 26, 2021
Running Time: 140 minutes