When her husband divorces her, Deanne (Melissa McCarthy), a middle-aged mother, decides to complete her college education, much to the dismay of her daughter, Maddie (Molly Gordon), with whom she shares her classes.
It should go without saying by this point that Melissa McCarthy really loves to make comedy films. Throughout the years we were blessed with great films such as Paul Feig's Bridesmaids and The Heat, but, then again, we have been cursed with embarrassingly bad comedies such as the cringe-inducing Tammy and The Hangover: Part III.
Honestly, when it comes to McCarthy, you are always taking a gigantic risk. You may go to the theatre and see a new movie starring her and be pleasantly surprised. But on the other hand, you may go to see her new movie and think it was genuinely terrible. It seems like she constantly makes a good movie than a bad movie.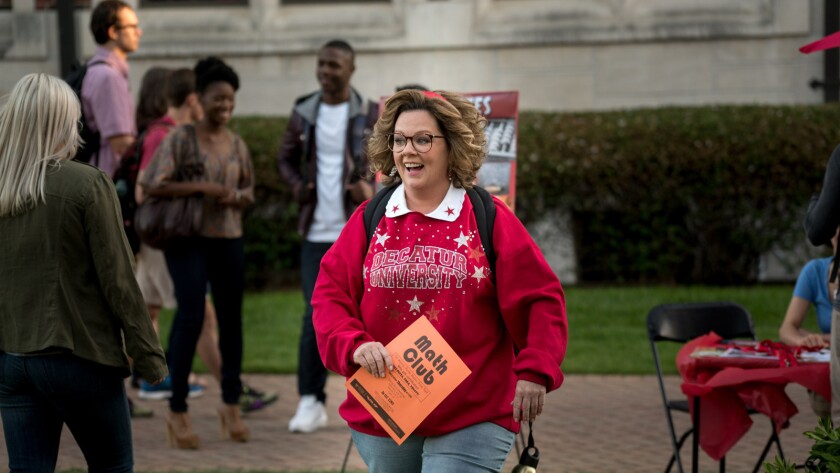 In a rare instance, her newest film Life of the Party, directed by Ben Falcone, is neither all that good and it isn't all that bad either. It has some strengths for sure, but it is nothing spectacular and it is nowhere near being one of the funniest comedy movies of the decade or anything.
Let's get this right out of the way – McCarthy is actually quite good in this movie and is surprisingly likable. That's another thing about her filmography that myself and many others have noticed. A lot of the characters that she has played over the years have been incredibly annoying and insanely unfunny. Whenever she portrays a fairly likable role, it is always a delight, and in the role of Deanna here, she does a good job. She never really feels like she is trying too hard, either. It almost feels like she can connect with her character which is great.
The script here was written by both Falcone and McCarthy which is quite surprising. Not only that, but McCarthy additionally produced this project alongside Falcone and Chris Henchy. A lot of the script feels fast paced and always moving. Clocking in at one hundred and five minutes, it never outstays its welcome thanks to jokes that land for the most part.
Yes, there are some sequences that are unfortunately unfunny and some scenes even come across as cringe-worthy, but a large portion of the humor is in good nature and works for the most part.
If I were to pinpoint the biggest flaw with Life of the Party, it would probably have to be the way  the story is executed. The concept of the film is actually fairly interesting and the filmmakers could have taken it in some genuinely great ways. The idea of a mother who goes back to college to complete her degree and along the way, makes new friendships with her daughter's friends sounds like it could be comedy gold. While it is somewhat humorous, it is nowhere near genius levels of comedy or anything like that. It gets a chuckle out of you and will maybe make you smirk, but that's about it.
But honestly, if you go into this movie expecting anything more than a good "turn your brain off" movie, then I personally feel as if you're going into it with all the wrong expectations. This is not going to be a Best Picture contender at the Academy Awards. It never once tries to be awards worthy. What it tries to be is a fun enough comedy that will make you turn your brain off for a little over an hour and a half, and it works well enough at doing that.
Life of the Party isn't a breakthrough for comedy, but its humor is fun enough, its script is decent, and contains a good Melissa McCarthy performance.
Overall Grade: B-
MPAA Rating: PG-13 for sexual material, drug content and partying
Cast: Melissa McCarthy, Gillian Jacobs, Maya Rudolph, Julie Bowen, Matt Walsh, Molly Gordon, Stephen Root, Jacki Weaver, Luke Benward, Heidi Gardner, Jimmy O. Yang, Chris Parnell
Directed by: Ben Falcone
Distributed by: Warner Bros. Pictures
Release Date: May 11, 2018 (United States)
Running Time: 105 minutes